Mon 5 May 2008
What a great week last week was!
The work week flew by, which is always good news. I had plenty of work to do, was able to complete a long and tedious project and lined out what I needed to do to get my other work done. Work accomplished and done well is always a mood booster, and it certainly boosted my mood last week!
Speaking of accomplishments, I hit a big one last week when I finally hit the 10% mark on my weight loss. It was a very proud moment when I got my 10% charm at
my Weight Watchers meeting, particularly since I've been struggling so much this past month, thanks to my bout with the flu. It feels great to know I've lost 10% of my body weight after so many years of trying and failing. I have finally come to understand that weight loss is all about mind set. Through my journey — so far — I've learned that I can basically eat what I want as long as I control my portions, and I've learned that there is no such thing as failure. For example, this week my friend, Kim, celebrated her birthday, and I had a HUGE piece of red velvet cake with cream cheese icing piled so high that it easy made up a third of the cake's height. (OMG, yummy!) In the past, I would have considered myself a failure after eating something like that, but now I just count it and go on. The good news is I lost 4.8 lbs in a week, AND had cake. Failure? I don't think so!
Speaking of weight loss, I am one of the many participants in the Oklahoma City weight loss initiative that our mayor, Mick Cornett, set in motion. (http://www.thiscityisgoingonadiet.com) I got an email from them early last week saying that a new show on the Food Network is giong to be spotlighting the initiative, and they are looking for people to interview. On a whim, I wrote the woman representing the show, and to my surprise, she called me back! She did a phone interview with me and, at the conclusion of the interview, asked me to send her a video tape of myself, my son and my sister, so she can show it to the show's producer and the Food Network. So, it looks like I have a pretty good opportunity to be on the show! How cool is that?
Just when I thought the week couldn't get better, I went to see a holistic physical therapist for help with the constant pain and burning in my shoulders. The first thing I learned there was that I no longer have to associate torture with physical therapy. Holistic physical therapy is completely different. They use a lot of resistance and gentle manipulation to treat the pain. The environment was very relaxing, with soft mood music and fountains that fill the rooms with the sound of trickling water. The woman who worked with me had hands of gold, and when I left an hour later, I was loose as a goose and felt better than I had in a long time. The place is called Back in Action, so if you live in the OKC area and need physical therapy, look them up!!
Finally, on Friday afternoon, I got the afternoon off, so I cou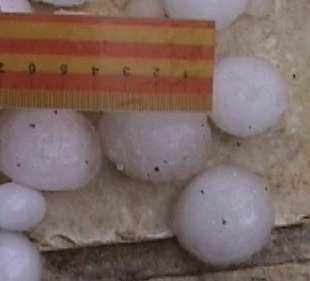 ld be home when the window replacement people got there to measure and replace my storm window that broke in last night's hail storm. The only thing better than having to wait less than 24 hours to get a broken window fixed after a very damaging storm is the fact that it was the only storm window I had that was letting condensation in, so I needed to fix it anyway. Oh, and getting the afternoon off on a Friday, of course.
I'd say life is pretty good for this old gal. Here's hoping that your week was just as exceptional! Now, let's make this week a great one, too!
Stumble It!
Leave a Reply